SPIRITUALITE / SPIRITUALITY :
Sous les auspices de Knoum Ré / Under the auspices of Knoum Re
"Tous les hommes savent que la mort fait partie de la vie, il est temps qu'ils apprennent que la vie fait partie de la mort, à la seule condition d'une démarche personnelle" (Khufu) 
"All men know that death is part of life, it is time that they learn that life is part of the death, only on condition of a personal approach" (Khufu)

 Seigneurs de l'Amenti :
 
"Peu d'humains connaissent l'au-delà car c'est une dimension accessible uniquement par un changement d'état physique.
Quand vous rentrez dans cette densité, la première chose que vous découvrez est une clarté intense où règnent la paix et la sérénité. Il n'y a pas de bruit et votre corps semble flotter. Vous vous sentez léger, léger, léger...
Ensuite, vous vous déplacez comme dans de la brume, et les formes se découvrent lentement. Vous distinguez alors qu'il y a bien un haut et un bas dans cette dimension. C'est à dire que vous prenez conscience que votre corps est constitué d'une ouate orientée dans l'espace et maintenue par une énergie très forte.
Vous ouvrez les yeux, et oui les yeux, sur le merveilleux, l'indescrïptible. Vous vous avancez encore jusqu'à pouvoir toucher les formes qui semblent émerger de la brume.
C'est là que j'ai aperçu Jean-Pierre, mon amour, tout proche de moi. J'ai pensé qu'il ne me voyait pas, mais par contre tout m'était visible clairement.
J'ai avancé la main pour le toucher, et j'ai été bien surprise de constater qu'il avait perçu mon geste, qu'il me voyait et m'entendait. ..
Je n'ai pas pu rester en contact très longtemps car j'ai été happée par une force inconnue et je me suis retrouvée devant un grand escalier qui s'élevait vers une source lumineuse.
Je n'avais pas envie de grimper. Mais tout autour de moi, je percevais des voix étouffées qui me disaient de monter. J'ai donc entamé l'ascension. Je voyais des volutes de lumière colorées. C'était une sorte de brume légère.
Je suis donc montée jusqu'à un palier où il y avait une sorte de porte lumineuse. J'ai pénétré.
Tout mon corps est alors devenu lumineux et je l'ai senti constitué d'énergie intense. Il semblait crépiter, et les autres personnages qui m'entouraient étaient constitués de la même forme d'énergie.
Là, j'ai été accueillie par une foule dont les visages étaient tout doucereux. Je me suis avancée et on m'a indiqué une place dans une clairière circulaire et paisible dans les nuées.
Au centre, il y avait plusieurs personnages. Ils avaient des corps lumineux énergétiques et informels. Seuls leurs visages étaient bien dessinés et rayonnaient une profonde sérénité.
Malheureusement , je ne peux vous en dire plus. J'ai essayé de vous faire découvrir cet inconnu qu'ici-bas l'on appelle l'au-delà.
J'aime être ici et je voudrais juste ajouter que je continue à aimer intensément ceux que j'ai dû quitter sur terre..."
Chantal L décédée en 2001
"Au coeur de la flamme éternelle résident les sept seigneurs de l'espace-temps qui aident et guident les enfants des hommes dans le passage qui traverse le temps" (les tablettes d'emeraude de Thoth)
Amenti Lords :
"Few human beings know the Great Beyond because it is an approachable dimension only by a change of physical state.
When you come in this density, the first thing you perceive is an intense clarity where are reigning peace and serenity. There is no noise and your body seems to float. You feel light, light, light ...
Then, you move as in mist, and the forms are appearing slowly. You discern then there are a top and a bottom in this dimension. It means that you realize that your body is made of a cotton wool oriented in space and maintained by a very strong energy.
You open your eyes... yes your eyes on the beautiful and the indescribable. You still go up to touch forms that seem to emerge from the mist.
It's there where I saw Jean-Pierre, my love, very close to me. I thought he did not see me, but i saw by myself all clearly visible.
I held out the hand to touch him, and I was surprised to feel that he had seen my gesture, he was looking to me and hearing me ...
I could not keep in touch very long because I was caught by an unknown force and I found myself in front of a long staircase which rose up to a light source.
I did not want to climb. But all around me, I perceived whispered voices which told me to go up. So I started the ascent. I saw then light colored wreaths. It was a kind of light mist.
So I climb up to a level where there was a kind of light door. I went in.
All my body became bright and I felt it made of an intense energy. It seemed to hiss, and the other beings around me were made of the same form of energy.
There, I was greeted by a crowd whose faces were sweet. I went forward and it was shown to me a place in a peaceful and circular clearing in the clouds.
In the middle, there were several light beings. They had luminous, energetic and informal bodies. Only their faces were well drawn and shined a deep serenity.
Unfortunately, I can not tell you more. I tried to show you this unknown dimension called here the Great Beyond (the afterlife).
I like being there and I would just add that I continue to love intensely all those I had to leave on earth ..."
Copyright all right reserved berger 2005
"Seated within the flower of radiance sit seven Lords from the Space-Times above us, helping and guiding through infinite Wisdom, the pathway through time of the children of men." (emerald tablets of Thoth)
La Mémoire vivante du passé / The living memory of past :
Le plan au sol à gizeh / the map on the ground at giza
Pyramides de Gizeh (Egypte) : Grande pyramide de Kheops et celles de Kephren et Mykerinos et le Sphinx / Pyramids of Giza (Egypt) : Great pyramid of Cheops and pyramids of Chephren and Mikerinos and the Great Sphinx.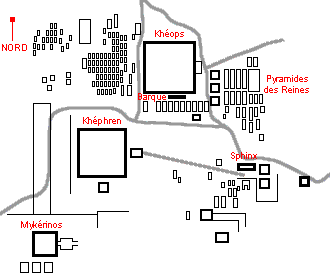 Le TROIS détient la clef de toute magie cachée. C'est lui le créateur des Chambres de la mort ; il déploie son pouvoir pour enfermer les âmes des hommes dans l'obscurité. C'est le régisseur de tout ce qui est négatif pour les enfants des hommes 
THREE holds the key of all hidden magic,  creator he of the halls of the Dead; sending forth power, shrouding with darkness, binding the souls of the children of men; sending the darkness, binding the soul force; director of negative to the children of men.(emerald tablets of Thoth)
The holy star in the palm of the hand of the present Pharaoh Cheops' incarnation
L'étoile sacrée dans la paume de la main de l'incarnation actuelle du Pharaon Kheops.
Le voyage dans le temps / the time travel
"J'ai construit la Grande pyramide en m'inspirant de la pyramide naturelle des forces de la terre afin qu'elle brûle éternellement et qu'elle demeure à travers les âges. Dans sa forme j'ai inscrit mon savoir de la Science Magique afin que je puisse toujours m'y retrouver lorsque je reviens de l'Amenti " (Tablettes d'emeraude de Thoth) 
"Builded I the Great Pyramid, patterned after the pyramid of earth force, burning eternally so that it, too, might remain through the ages. In it, I builded my knowledge of "Magic-Science" so that I might be here when again I return from Amenti..." (emerald tablets of Thoth)
LA MAIN DE KHUFU / KHUFU 'S HAND :
Photo exclusive et orginale.

Entre autres / Among other things :
Les lignes de la main montrent la lignée royale du Pharaon Khufu (Kheops) et les trois pyramides de Gizeh (Egypte) en pointant sur la Grande pyramide (petite étoile).
The lines of the hand shows the royal lineage of Pharaoh Khufu (Cheops) and the three pyramids of Giza (Egypt) by pointing to the great pyramid (liitle star).
La vérité est dans la main / The truth is into the hand

Ce forum répond à de nombreuses questions primordiales d'actualité, grâce au témoignage unique de Kheops et à la force du rituel egyptien antique face à l'ignorance des temps dits modernes . Il renforce donc la croyance et la foi en toutes les religions terrestres et apporte enfin une preuve vivante...Les temps ont changé depuis la quatrieme dynastie egyptienne mais tout reste d'actualité dans le cosmique. Il est certain que le message passé sur internet est noyé dans une masse sournoise et enorme d'informations souvent contradictoires où beaucoup ecrivent en disant n'importe quoi, ce qui rend la tâche de ce forum et le message de khufu encore plus hardus.
Veuillez préserver la retraite spirituelle permanente de Khufu dans la vie presente : ni rendez-vous, ni conference, ni entrevue, ni commentaire,  ni interview...
This forum answers at numerous primordial questions of actuality, thanks to the only evidence of Kheops'life and to the force of the egyptian ancient ritual face to the ignorance of modern time. It reinforces therefore the belief and the creed in every earth religions and brings a living proof finally...Time changed since fourth egyptian dynasty but all keeps its actuality in the cosmic. It is certain that the message shown on the internet is drowned in a sneaky and huge mass of informations often contradictory where many write by saying anything, which makes the task of this forum and the message of khufu even harder.
Please preserve ever spiritual retirement of Khufu in present life : no  rendez-vous, no conference, no meeting, no comment, no interview...
TEMPLE D'ATH KA PTAH / TEMPLE OF ATH KA PTAH


L'Agwanti symbolisé sur le pyramidion / Agwanti symbolized on the pyramidion.
Prière journalière / Daily Request
ô Seigneur Knoum Koue Foui
chemin de mystères
de l'au-delà la lumière
parmi les Sept de l'Amenti
pour les siècles Eternel
mi-esprit mi-homme
parmi les hommes
à certains tu te mêles
plaide pour mon funeste sort
ô Seigneur tu sais
aies pitié
je me prosterne pour mes torts
que le Sphinx tout-puissant
gardien du secret passage
en la déesse Isis féconde l'âge
dans les eaux compatissant
ô Seigneur écoute mon âme
en l'obscure Amenti un jour précipitée
qu'elle renaisse à la clarté
de la vie la flamme
aujourd'hui comme hier
ton humble serviteur
par l'offrande ô Seigneur
élève sa prière
ô lord Knoum Koue Foui
way of mysteries
great beyond light
among Seven of Amenti
for centuries Endless
half ghost half man
among the human
with some you mingle
plead for my calamitous fate
ô Lord you know
feel pity
I prostrate myself for my faults
may the Great Sphinx all-powerful
guardian of the secret passage
in the goddess Isis fertilizes the âge
in commiserating waters
ô Lord listens to my soul
in dark Amenti one day falled
may it rediscovers the clarity
of life the flame
today as yesterday
your humble servant
by offertory ô Lord
raises his request
copyright forum berger 2008 - all rights reserved

                   SIN A TUR
Onction de vie / Life unction :
je te confie un des secrets
de la terre l'éternité
de l'argan l'huile pressée
quand ta fin arrivée
c'est le temps
de la mort le front
avec l'huile l'onction
un nouveau né passant
l'âme à nouveau auréolé
ayant l'abîme traversé
jamais arrêtée
pour une vie renouvelée
la prière est le pass
avant que tu trepasses
du gardien la grâce
l'âme obtient sa place
i entrust thee one of the secrecies
of earth the eternity
by argan oil squeezed
when your end happened
it is time
the death to forehead
by oil unction
new born passing
soul again glorified
abyss crossed
never stopped 
for a life renewed
prayer is the pass
before thou trepasses
from guardian the grace
the soul gets its place
"Peuple d'Egypte,
Qu'avez-vous fait de notre héritage?
Vous avez profané notre rituel magique, nos tombes et nos momies en toute ignorance.
Vous avez oublié la grandeur passée.
Vous marchandez maintenant nos trésors et nos vestiges !
Le chant des sirènes du monde vous a entraînés loin du chemin.
Redressez la tête.
Retrouvez au plus profond de vous la flamme de l'ascendance.
Espérez en vos anciens."
"People of egypt,
What did you make of our inheritance?
You profaned our magical ritual, our tombs and our mummies in any ignorance.
You forgot the past greatness.
You bargain our treasures and our relics now!
The song of the sirens in the world has led you away from the way.
Find the flame of lineage in the depths of you. 
Hope in your ancient gods and goddesses."
---
"Je suis le bâtisseur de la pyramide, mais les plans ont été dessinés par les Dieux. L'énigme de l'édifice dépasse de beaucoup l'entendement des hommes. Le secret n'est pas dans la pyramide mais dans ma survivance."
"I am the builder of the pyramid, but the plans were drawn by the Gods. The enigma of the building exceeds so much the comprehension of men. The secret is not in the pyramid but in my survival."
---
"Les secrets d'outre-tombe ne sont révélés qu'aux grandes âmes, c'est notre héritage à chaque résurrection"
"The secrets from beyond are only revealed to the great souls, it is our heritage to each resurrection."
Des temps futurs bien problématiques / Some future times  very problematic  :
"Les progrès de l'homme qu'il aura vite fait d'assimiler à de l'évolution va malheureusement favoriser sa prétention. Ce qui aboutira rapidement  à l'inverse du but recherché par les êtres de lumière. La vulgarisation de la connaissance sacrée déjà commencée va lui faire croire qu'il connaît tout et cette abondance de lumière va le faire tomber dans l'obscurité en lui ôtant la croyance. Aux environs de l'an 24 000, l'homme sera obligé de vivre sous terre car il aura lentement détérioré l'atmosphère terrestre. Cette dure réalité peut être encore changée si l'homme reste humble, ce qui est un challenge de plus en plus difficile."
"The progress of the man which he will assimilate quickly with evolution is going unfortunately to promote his Pretention. This will lead him quickly to the opposite of target wanted by the beings of light. The spreading of the sacred knowledge already begun will make him believing in the future that he knows everything and this abundance of light will make him falling in the darkness by removing his belief. Around the year 24 000 A.D, the man will be forced to live underground because he will have slowly deteriorated the terrestrial atmosphere. This hard reality may be still changed  if the man stays humble, what is an  increasingly difficult. challenge."
---
"La loi divine est comme une symphonie infinie où chaque musicien suit une partition sans en avoir pleinement conscience"
"The divine law is like an endless symphony where each musician follows a score without having fully conscience."
"Les pyramides ont été créées pour être une déchirure dans le continuum espace-temps"
"The pyramids have been created to be a break in the Space-Time Continuum"
--
"La hauteur de la pyramide grâce à la rotation terrestre provoque une harmonique qui permet de programmer précisement la date de retour de l'Amenti. Mais pour cela le pharaon doit connaitre la science de l'avenir."
"The height of the pyramid thanks to the terrestrial rotation create an harmonic which allows to enter precisely the date of return from Amenti. But for that the pharaoh have to know the science of the future. "
---
"Nulle superstition d'un autre âge, Nulle adoration de veaux d'or, nulle secte ici, mais simplement un chemin de vérité prouvée pour les êtres de lumière".
"No superstition from another age, no worship of golden calves, no sect here, but simply a way of proved truth for the beings of light ".
---
"La mort est considérée par notre antique science comme une éclipse solaire. "
"The death is considered by our ancient science as a solar eclipse."
--
"Regroupez-vous !
Une des raisons de ma venue est de réactiver l'unique passage de vérité et de vie, car toutes les pyramides antiques ont été détériorées par l'ignorance et la cupidité des hommes.
Les temps sont arrivés. Mon projet, évidemment, si on m'en donne les moyens, en Egypte ou dans un autre pays, est de reconstruire le temple, la nécropole antique et la pyramide, aussi bien pour mes frères présents que pour l'ensemble des hommes sincères de la planète.
Regroupez-vous pour assurer le projet et le mener à bon terme. Le vaisseau-mère doit maintenant accueillir toutes les âmes de bonne volonté au niveau mondial, dans cette sphère ou dans une autre.
Traduisez mes écrits et faites les connaître rapidement. Oeuvrez pour votre avenir. Je souhaite que ce message soit entendu et aboutisse à une réalité. Ce n'est que pour vous. Je continuerai à rester discret et à attendre votre décision."
"Regroup you !
One reason for my coming is to reactivate the only pathway of truth and life, because all the ancient pyramids have been deteriorated by ignorance and greed of men.
The time happened. My project, course if I get the means, in egypt or in another country, is to rebuild the temple, the ancient necropolis and the pyramid as well for my present brothers that for all sincere men of the planete.
Regroup you to assure the building and lead it to good term. The mother-ship must now receive all souls of goodwills at worldwide level, in this sphere or in other one.
Translate my writings and make them knowing fast. Work at your future. I wish that this message be heard and lead to a reality. It's only for you.
I will continue remaining discreet and waiting for your decision"
Sache que tu proviens d'un espace-temps en dessous et que tu voyageras dans un espace-temps au dessus. Mais tu ne connais pas grand chose des mystères qui se cachent dans ces dimensions (tablettes d'emeraude de Thoth)
Ye know that ye came from a space-time below this and know ye shall travel to a space-time beyond. But little ye know of the mysteries within them, little ye know of the wisdom beyond. (emerald tablets of Thoth)
Cela devrait suffir à vous faire une idée de la vérité de mes propos pour les autres malheureusement les temps de la compréhension ne sont pas encore venus.
That should enough to make you an idea of the truth of my remarks, for others unfortunately the time of the understanding are not yet come.
 VOS COMMENTAIRES / YOUR COMMENTS

Ce que vous souhaitez dire à Kheops.
What you want to tell Cheops.
Merci / Thanks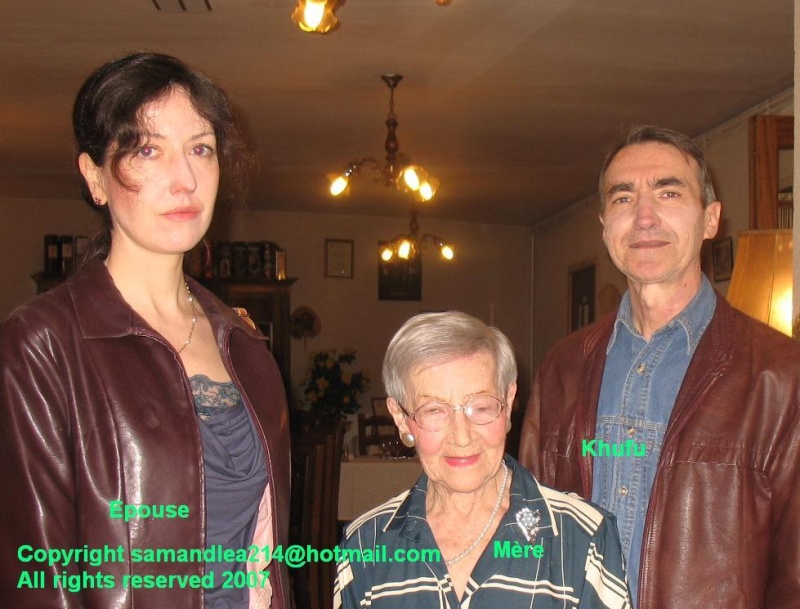 A titre uniquement documentaire / As only documentary :
Il y a quelques erreurs dans ces textes mais Khufu ne fait aucun commentaire / There are a few mistakes in these texts but Khufu doesn't comment.
Argent fortune money bourse trade trader bénéfices profit e-gold egold paypal investment investissement maison home jardin garden flowers fleurs newspaper journal news breaking news flash une un agenda diary calendar calendrier holy saint commerce search search engine recherche mot word microsoft software freeware logiciel internet musique CD DVD download telechargement sell buy acheter vendre louer low high bas haut plein full empty vide offre ebay google msn yahoo evenement event love amour couple star showbiz acteur actrice chanteur chanteuse compositeur musicien comedien comedienne theatre theater espace space planete planet ground sol air manga bande dessinée chine china asia asie town ville pays country urss russie inde india afrique africa america amerique south america usa ile island travel voyage sejour location vacances holiday voiture car visite visit children father mother pere mere enfant aide cercle circle cirque middle milieu center center recompense sport honneur honnor politique politics election finance game jeu gratuit free freely oui non yes no question answer life vie mort death destin destiny lune moon ange angel ashtar ashtar command new age religion pape pope pretre priest tv phone email couriel programme jour day month mois année nuit night year 2008 past passé avenir future futur present reincarnation freedom liberte contact friend ami university université diplome, diploma progres confort comfort progress president nombre number chiffre rencontre meet meeting free  money temple hieroglyph osiris isis horus fatima travel advice free question voyage ovni ufo ashtar command ashtar rose top position hot hit grail graal louvre god dieu saint ancient miracle new age angel egold paypal men women homme femme shopping courses bon marché monument rapide musée quick museum vitesse economie lenteur tortue  concours change changement mouse souris map recette recipe cooking cuisine tricot modele top ovni ufo alien extraterrestre soucoupe volante flying saucer earth terre ile island paradis paradise book livre auteur author orchestre film movie new nouveau nouvel article million milliard dollar euro jeux olympic olympic game race course ship  bateau train avion plane art beauty health beauté santé publicité promotion advertising annonce world monde vetement dress ciel heaven sky chaussures shoes marriage mariage noces prince princess princesse roi reine soldes magasin rabais pied foot hand main coeur heart bouche mouth oreille ear hair cheveux yeux eyes reussite espoir hope success histoire story walt disney disneyland  hero heroes miracle foi faith parfum guerir heal cure price prix coupe win gagner  box boite letter lettre nouvelle novel roman  television artiste chorale soprano eau feu son ame soul dieu god goddess deesse rome caire cairo statue photo image gift don heritage foundation foundation association ecole school study learn etude encheres oiseaux birds sun soleil beach plage repos los angeles san francisco paris superman super wow hugh lol message bisous mode fashion key clé lumiere light nasa europ europe ski football snow neige mirror glace miroir fantôme revenant ghost pole est east west ouest north nord sud south artic culture paper papier vent wind tempete storm orage hurricane cyclone deluge arbre tree nature chat forum echange exchange devise foreign etranger strange gens people flux courant meteorit peur fear peace paix accord equilibre balance order ordre free masonry franc maçon free mason templiers temple elevation education clic cliquer click chevalier age young jeune jeunesse ecran screen treasure tresor mystere ruine desert plaisir pleasure rest repos gout taste odeur sweet doux montagne mountain summit sommet resultat result crayon pen pencil mer sea dark ombre sombre frere soeur rock beatles jazz  afterlife enfer amenti anubis au delà travail job independance bonheur entreprise company and text dessin enter entrée city pont bridge harbour labour labeur way chemin archange protection native sorcier sorcellerie spiritisme gardien maitre apprenti compagnon degré yahvé amon eglise timbre stress plante campagne agwanti aigle aile eagle ummo ummite zeta system solar arulu shamballah  priere prayer poem poeme science pyramid pyramide thoth toth emerald tablet cristal reiki magie magic rose croix jerusalem giza gizeh danse date celibataire solitude wife husband mari epouse epoux fiancé fiancée plus less more add adition hotel restaurant café thé tea astrologie horoscope astres jesus mary of magdalena da vinci de vinci code cosmic cosmique cosmos pharaon cheops kheops snefru khufu chephren khephren mykerinos mikerinos great sphinx orion sirius chasseur geant constellation nile nil caire royaume egypte egypt resurrection morts passage acheron barque solaire enfer purgatoire bible holy porte open close civilisation mr mme mlle miss lady mister madam madame monsieur mademoiselle diable demon râ légion opposition lucifer porteur daimon devil evil sauvetage noé noah arche alliance cherubin clair nom prénom birthday name surname naissance enceinte best better mieux meilleur vainqueur parfait perfect celeste temps bonjour hello hi au revoir bye prophete moine prieuré sion recueillement adoration kabbale tombe cemetery cimetiere savoir voir see know ask serieux honnête honest google meteo weather horaires auto salon exploit trophée trophy record expedition archeologie archeologue archeology archeologer astronomie astronomy egyptologue egyptologie egyptologer egyptology astrology astrologer pierre tailleur church trust formule carnaval ebe et pur pure lotion creme cream huile oil petrole fuel naturel natural parc peche lecture radio Здравствуйте russie pekin japon tokyo moscou  Atlantean atlante atlantid atlantide Thoth the Atlantean master of mysteries keeper of records mighty king magician living from generation to generation being about to pass into the Halls of Amenti set down for the guidance of those that are to come after these records of the mighty wisdom of Great Atlantis In legend the halls of Amenti became the underworld the Halls of the Gods where the soul passed after death for judgment During later ages the ego of Thoth passed into the bodies of men in the manner described in the tablets The idea that Mary Magdalene was the wife of Jesus was popularized by books like The Jesus Scroll 1972 Holy Blood Holy Grail 1982 The Gospel According to Jesus Christ 1991 The Woman with the Alabaster Jar 1993 Bloodline of the Holy Grail The Hidden Lineage of Jesus Revealed 1996 and The Da Vinci Code 2003 roseline marie madeleine ancestral ancient templar master holy Khéops ou Khoufou 2590 à 2565 av. J.-C fils du roi Snéfrou est un pharaon considéré par certains comme l'un des plus grands de l'histoire de l'Égypte antique Il est connu pour avoir fait construire la grande pyramide de Gizeh dont la construction prit vingt années nécessitant 20.000 ouvriers et est considérée de nos jours comme la perfection en terme de technique de construction et d'architecture des pyramides égyptiennes louisiane french people cajuns francophone japon indonesia india korea russia egypte antique ancienne memphis dieux pharaons pharaon ramses,II cléopâtre cleopatre akhenaton société,egyptienne,egyptien, egyptiens Nil sable sarcophage paysage ancien nouveau empire thebes images image momification tombeaux minidou apprendre hieroglyphes hittites sagesse pyramide toutankhamon toutankaton roi reine amenophis alexandrie guizeh pyramides origine guerre horoscope dico dictionnaire christian jacq nom elizabeth peters égyptologue egyptologue chat forum thot horus egyptos seth maat isis,heqa hathor obek amon amenhotep noun geb mout knoum khnoum douat am âme sphere antiquités haute autorité cosmos magic science magique cycles seigneur mystere enigme secret initiation rose ufologie science-fiction film tibet dalai-lama enigma shaft conduit aeration air eau water  robot report publication article 2012 مصر الهرم خوفو خوفو
египет пирамиды Хеопса Хуфу Egipto pirámide de Keops Khufu histoire history construction architecte plan projet architect fortune money dollar euro terrain land ground

Comment (0)




Thu, Mar 20th - 3:09AM

Now you can know the secrets about Pharaoh Cheops...


Les preuves du passé / the past evidence :

Pyramides de Gizeh (Egypte) : Grande pyramide de Kheops et celles de Kephren et Mykerinos / Pyramids of Giza (Egypt) : Great pyramid of Cheops and pyramids of Chephren and Mikerinos.





 

That's what inspired the Great Sphinx and the three pyramids of giza in the Orion constellation / C'est ce qui a inspiré le Sphinx et les trois pyramides de gizeh dans la constellation d'Orion :

 

 

The Great Sphinx / Le Sphinx :

 

La Mémoire vivante du passé / The living memory of past :

 

L'étoile sacrée dans la paume de la main de l'incarnation actuelle du Pharaon Kheops / The holy star in the hand palm of the present Pharaoh Cheops's incarnation

 

 

 




 





Comment (0)




April 2008
1
2
3
4
5
6
7
8
9
10
11
12
13
14
15
16
17
18
19
20
21
22
23
24
25
26
27
28
29
30
prev
next