Wed, Jul 30th - 11:17AM
Turkish Feminist Art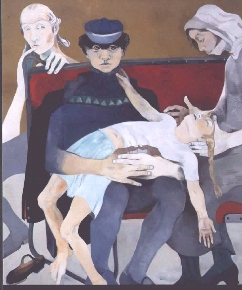 Right: Nese Erdok - Sick Child - 1993.
Since the 1960s women artists in Turkey have seen a cultural renaissance, both stylistically and subject wise. Contemporary issues that effect women every day have become the subject of artwork, indeed this trend is worldwide, and those subjects are constantly being re-evaluated by artists, feminists and art critics. Feminist art has become an important part of Turkey's art scene.
In a society where women are traditionally taught and furthermore encouraged to engage themselves in weaving, embroidery and knitting, learning to paint is already an acceptable accomplishment. More than half of today's Turkish artists are women. Although the University Art Departments all have women as the majority of their students, the number of women artists who survive the professional struggle is few. Even more women artists gain a private training and it is after this that they too join the field. It is also striking that there are very few women educators in the faculties of the art departments while the ratio in other fields such as architecture and sciences is today more evenly balanced.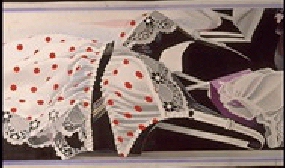 Right: Nur Koçak - Stripes or Special to the Bath with Garden - 1992-93.

Metropolitan Istanbul and Ankora (Turkey's capitol city) has many places for exhibiting works. Amateur artists can promote their art in state galleries, privately run galleries, and many banks also boast art galleries. This rosy image of artistic life isn't so rosy when you realize most of the artists shown are male and there were relatively few women artists in the mainstream of art until the 1960s. After the 1960s there were improvements, and some women even took on leadership roles, but there is still lots of room for women to grow and gain acceptance.


Comment (0)